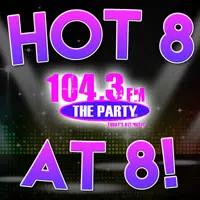 Happy Thursday! Welcome to your Throwback Thursday edition of the Hot 8@8 Countdown with Smoky's House BBQ in Charleston which of course is all part of The Night Club with Carman. So given the night of the week, that means an old school track will be spun backwards for your chance to win free Smoky's all part of Pop Culture Trivia! Now for the past 3 nights this week Ed Sheeran has been pretty tough to defeat with "Castle on the Hill"…a grand total of 7 nights so far it has spent #1 on the show. Can he go 8 tonight??? See what you helped decide!
8. "The Cure" – Lady Gaga (Re-Entry!)
7. "Believer" – Imagine Dragons
6. "I Spy" – Kyle feat. Lil' Yachty
5. "Kissing Strangers" – DNCE feat. Nicki Minaj
4. "There's Nothing Holding Me Back" – Shawn Mendes
3. "Sign of the Times" – Harry Styles
2. "I'm the One" – DJ Kahled feat. Justin Bieber & Chance the Rapper
1."Castle on the Hill" – Ed Sheeran
So while maybe not 8 nights in a row, it's still a grand total of 8 nights for Ed being #1 on our show with his latest! If you want to see it go 9 nights and close out the week strong, please remember you can help determine the outcome by once more by voting. Please do so by either calling 217-844-HITS, texting 217-218-0288, or leaving your vote at The Party's Facebook Page!