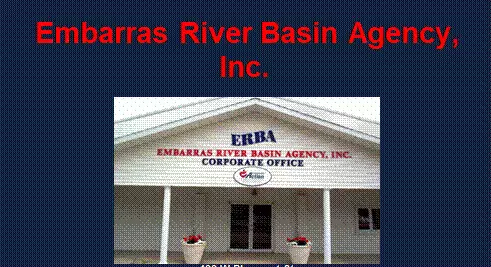 Greenup, IL – Embarras River Basin Agency, which serves 9 counties is demanding that the General Assembly and Governor appropriate federal pass-through funding and unlock special funds for FY 2018 through a standalone budget should there not be a grand bargain agreement at the end of May.
"We are concerned that if legislators and the governor cannot at least come together on appropriating federal funding and special funds for the LIHEAP programs, over 8,000 of our area citizens will go without important funding that provides safety and security," said Cathy Feltner, Executive Director of ERBA  "Our agency uses federal funds to provide heating, home weatherization, and many other services to our most vulnerable residents throughout out our service area."
Federal pass-through funds have already been appropriated by Congress and authorized for spending by the federal government. Those funds do not adversely affect the state's budget. Illinois' budget authorizes the state to spend both federal and state funds for goods and services. Any delay in the state budget's approval means that Illinois' most vulnerable residents could be in danger of losing vital services and support when the new fiscal year begins.
"Some of our most vulnerable households have to choose between basic needs. For example, a senior citizen may have to decide whether to buy their prescription medications or pay an electric bill. A single mom may have to choose between buying food and paying for her child care. The federal funds our agency receives help to remove the stress of having to choose and helps our families focus on improving their quality of life," said Feltner
"We realize that tough decisions have to be made to balance our budget. We need to develop a budget that truly strengthens the safety net and protects our most vulnerable people," said Vincent Clark, Chair of the Illinois Association of Community Action Agencies. "Illinois' budget should be a common sense budget that is not balanced on the backs of the poor. Shared sacrifice must include those at the top; only then will Illinois have a budget that is fair."
Community Action Agencies (CAAs) are federally designated to locally address the root causes of poverty.  In Illinois there are 37 agencies that address poverty through programs and services in all 102 counties of the state. Collectively, CAAs in Illinois provide vital services to more than one million individuals on an annual basis. Besides human services, many of the CAAs in Illinois are engaged in community and economic development activities that range from affordable housing creation, housing rehabilitation, supporting local businesses and employing small contractors. These agencies use both federal and state funding to address local poverty issues.