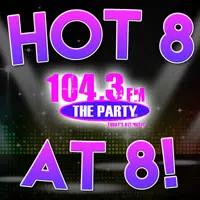 It's Tuesday and once more time for another round of the Hot 8@8 Countdown with Smoky's House BBQ in Charleston which is all part of The Night Club with Carman! Now last night, we finally saw a new song take over the top spot…"I'm the One" from DJ Khaled which knocked Ed Sheeran down a a space. Can Ed regain his ground or will DJ Khaled with his friends remain victorious once more??? See what you helped decide and also no new entries from what we saw last night either….
8. "Despacito" – Luis Fonsi feat. Daddy Yankee & Justin Bieber
7. "Slow Hands" – Niall Horan
6. "Sign of the Times" – Harry Styles
5. "Believer" – Imagine Dragons
4. "The Cure" – Lady Gaga
3. "Castle on the Hill" – Ed Sheeran
2. "There's Nothing Holding Me Back" – Shawn Mendes
1."I'm the One" – DJ Khaled feat. Justin Bieber & Chance the Rapper
That's two nights now and the counting is on for DJ Khaled! Please remember you help determine the outcome for the Hot 8@8 so please be sure to cast your votes every weeknight from 5-7:30 p.m. Just be sure to do so by either calling 217-844-HITS, texting 217-218-0288, or leaving your vote at The Party's Facebook Page!