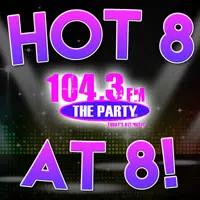 It's Thursday and here in The Night Club with Carman it means it's time for another round of Throwback Thursday fun for The Hot 8@8 Countdown with Smoky's House BBQ in Charleston!!! So when we get to Pop Culture Trivia, an old school retro-rewind favorite will be spun backwards and you got to be able to identify it. Now when it comes to the songs, all this week DJ Khaled and friends have been #1 with "I'm the One" can it go four night at #1 tonight??? See what you helped decide….
8. "Malibu" – Miley Cyrus
7. "Castle on the Hill" – Ed Sheeran
6. "Believer" – Imagine Dragons
5. "Despacito" – Luis Fonsi feat. Daddy Yankee & Justin Bieber
4. "Slow Hands' – Niall Horan
3. "The Cure" – Lady Gaga
2. "There's Nothing Holding Me Back" – Shawn Mendes
1. " I'm the One" – DJ Khaled feat. Justin Bieber & Chance the Rapper
That's four nights now! DJ Khaled proves to be unstoppable. If you would like to see him go a fifth night in a row and close out the week strong, please remember to do so by simply casting your vote weeknights from 5-7:30 p.m. You can cast your ballots by either calling 217-844-HITS, texting 217-218-0288, or leaving your vote at The Party's Facebook Page!