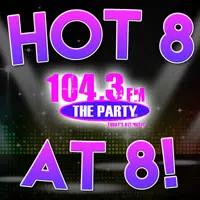 Happy Thursday! Welcome back to another night here in The Night Club with Carman, and given the day of the week, that means it's time for another round of your Throwback Thursday edition of The Hot 8@8 Countdown with Smoky's House BBQ in Charleston! Of course for Pop Culture it will be your chance to win free grub by listening to a throwback, retro-rewind favorite backwards but first we got to count down the songs and last night was a pretty big moment on the show for DJ Khaled got dethroned from his reign. Miley Cyrus stepped up and took "Malibu" to the #1 spot! Can Cyrus go a 2nd night tonight? See what you helped decide….
8. "Humble" – Kendrick Lamar
7. "Down" – Fifth Harmony feat. Gucci Mane
6. "Bad Liar" – Selena Gomez
5. "2 U" – David Guetta feat. Justin Bieber
4. "Strip That Down" – Liam Payne feat. Quavo
3. "Crying in the Club" – Camilla Cabello
2. "I'm the One" – DJ Khaled feat. Justin Bieber & Chance the Rapper
1."Malibu" – Miley Cyrus
Miley claims the top spot yet again! That marks a 2nd night at #1 for her, the big question can she come close to tying DJ Khaled's 26 night record? Well, that's a while out, anyways every weeknight you can help determine the outcome by casting your vote. Please be sure to do so from 5-7:30 p.m. by either calling 217-844-HITS, texting 217-218-0288, or leaving your vote at The Party's Facebook Page!