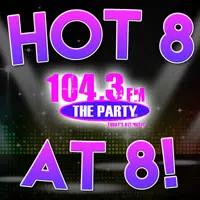 Happy Hump Day! It's Wednesday once more and time again for your mid-point Hot 8@8 Countdown for the week with Smoky's House BBQ in Charleston all part of the Night Club with Carman! Now this week, like last week, only one song has seen the top of our show "Praying" from Ke$ha where last night it went its 7th consecutive night at the top! Any different tonight? See tonight's results below….
8. "Feel It Still" – Portugal the Man
7. "Hoodie" – Hey Violet
6. "Sorry, Not Sorry" – Demi Lovato
5. "Fetish" – Selena Gomez
4. "Get Low" – Zedd feat. Liam Payne
3. "Unforgettable" – French Montana feat. Swae Lee
2. "Honest" – Chainsmokers
1."Praying" – Ke$ha
8 nights now and counting! Please remember weeknights you have the power in how the songs fare out on the countdown! Please remember to get in your votes weeknights from 5-7:30 p.m. CDT by either calling 217-844-HITS, texting 217-218-0288, or by leaving your vote at The Party's Facebook Page!