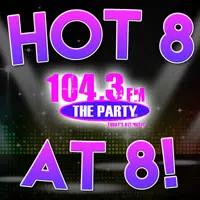 Finally Friday!!! Welcome back to The Night Club with Carman and starting off your weekend is your final Hot 8@8 Countdown with Smoky's House BBQ in Charleston for the week of August 14th through the 18th! All this week, like we saw last week, only one song has been a dominate force on the show…the latest for Ke$ha "Praying!" Will she go a solid 2 weeks at #1 tonight, see what you helped determine also one new song tonight too!
8. "Back to You" – Louis Tomlinson feat. Bebe Rexha (Debut!)
7. "Hoodie" – Hey Violet
6. "Feel it Still" – Portugal the Man
5. "Fetish" – Selena Gomez feat. Gucci Mane
4. "Sorry, Not Sorry" – Demi Lovato
3. "Get Low" – Zedd feat. Liam Payne
2. "Honest" – Chainsmokers
1. "Praying" – Ke$ha
She does it again, 10 nights in a row at the top of the show! Please remember when we pick the show back up on Monday -night you have a say in how the songs fall. Please cast your vote Monday through Friday from 5-7:30 p.m. CDT by either -calling 217-844-HITS, texting 217-218-0288, or by leaving your vote at The Party's Facebook Page!