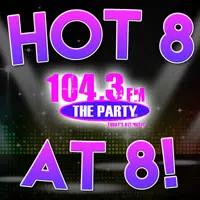 Happy Eclipse Monday! Hope you had a fantastic weekend, and got to experience the one of a kind Solar Eclipse today, however now that the normal night time for the day has arrived, that means another night here in The Night Club with Carman is getting underway and your first of the week The Hot 8@8 Countdown with Smoky's House BBQ in Charleston! Your Monday night refresher: Friday for the 10th consecutive night (2 weeks straight) Ke$ha took #1 with her latest smash "Praying!" Will she go an 11th night tonight and start off a 3rd week strong? See what you helped decide tonight below, one debut as well…..
8. "Back to  You" – Louis Tomlinson feat. Bebe Rexha
7. "What About Us" – Pink (Debut!)
6. "Feel it Still" – Portugal the Man
5. "Get Low" – Zedd feat. Liam Payne
4. "Fetish" – Selena Gomez feat. Gucci Mane
3. "Sorry, Not Sorry" – Demi Lovato
2. "Honest" – Chainsmokers
1."Praying" – Ke$ha
A third week starts and she continues to go strong! The week's still early so anything can happen, but please remember you can help determine the outcome. Please be sure to cast your vote weeknights from 5-7:30 p.m. CDT by either calling 217-844-HITS, texting 217-218-0288, or by leaving your vote at The Party's Facebook Page!