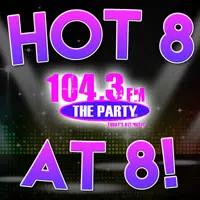 It's Hump Day! Happy Wednesday and welcome back to The Night Club with Carman. I like to call your Wednesday show the mid-point Hot 8@8 for the week with Smoky's House BBQ in Charleston so check out tonight's results to see what you helped determine. I can tell you we have one debut, but we will we have a new #1? "Praying" from Ke$ha has been a dominate force for 12 nights, see where it falls….
8. "Lights Down Low" – Max feat. Gnash (Debut!)
7. "Back to You" – Louis Tomlinson feat. Bebe Rexha
6. "What About Us" – Pink
5. "Feel it Still" Portugal the Man
4. "Sorry, Not Sorry" – Demi Lovato
3. "Fetish" – Selena Gomez feat. Gucci Mane
2. "Praying" – Ke$ha
1."Honest" – Chainsmokers
After 12 nights, Ke$ha falls, which means we have a new #1!!! After 2 weeks stuck at #2, Chainsmokers manage to grab the top spot for the first time with "Honest". If they go a second night you have the power in determining the outcome. Please be sure to cast your votes weeknights from 5-7:30 p.m. CDT by either calling 217-844-HITS, texting 217-218-0288, or leaving your vote at The Party's Facebook Page!