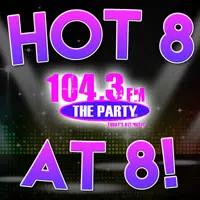 Happy Hump Day! Welcome back to The Night Club with Carman and your second to last Hot 8@8 Countdown with Smoky's House BBQ in Charleston for the month of August! Now this week, the countdown thus far has been quite interesting for we've seen high debuts, fast movers, and a new song at #1….for the past 2 nights Demi Lovato has been the one to beat with "Sorry Not Sorry", find out your results tonight to see if she goes 3 nights…..
8. "Fetish" – Selena Gomez feat. Gucci Mane
7. "Honest" – Chainsmokers
6. "Back To You" – Louis Tomlinson feat. Bebe Rexha
5. "Friends" – Justin Bieber feat. Bloodpop
4. "What About Us" – Pink
3. "Look What You Made Me Do" – Taylor Swift
2. "Feel It Still" – Portugal the Man
1."Sorry, Not Sorry" – Demi Lovato
That marks 3 nights, but Taylor and Portugal the Man are both hot on her heels. Please remember you can help decide how the songs place by casting your vote. Weeknights voting is open from 5-7:30 p.m. CDT by either calling 217-844-HITS, texting 217-218-0288, or by leaving your vote at The Party's Facebook Page!