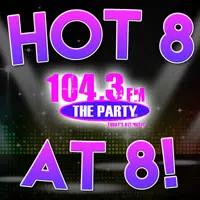 It's Throwback Thursday and your final Hot 8@8 Countdown with Smoky's House BBQ in Charleston for the month of August! It's all part of the Night Club with Carman and of course that means, given the day of the week, we'll spin an old-school favorite backwards for Pop Culture Trivia. Now this week we've seen some interesting placements, but at #1 it has been Demi Lovato with "Sorry, Not Sorry." Check out your Thursday results below to see if she ends the month strong…one new entry as well!
8. "Honest" – Chainsmokers
7. "Two Ghosts" – Harry Styles (Debut!)
6. "Back to You" – Louis Tomlinson feat. Bebe Rexha
5. "Friends" – Justin Bieber feat. Bloodpop
4. "What About Us" – Pink
3. "Feel It Still" – Portugal the Man
2. "Look What You Made Me Do" – Taylor Swift
1."Sorry, Not Sorry" – Demi Lovato
That marks a 4th night, will she go for 5? I feel like it's hard telling because Taylor and Portugal have both been hot on her heels, please remember to cast your votes weeknights and have a say in how the songs place. Do so from 5-7:30 p.m. CDT by either calling 217-844-HITS, texting 217-218-0288, or by leaving your vote at The Party's Facebook Page!