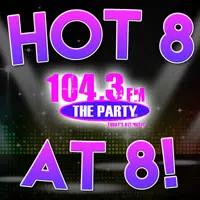 Finally FRIDAY!!! Another quick week it's been, but hey it's the start to the weekend and time for another round of The Hot 8@8 Countdown with Smoky's House BBQ in Charleston all part of The Night Club with Carman! Now it's your last show for the week of September 4th through the 8th and the one and only Taylor Swift has been dominate in the #1 spot, find out tonight if she will go a 4th night straight at the top. We also have a new single from a pretty big group in Top 40 getting us started as well, check out the breakdown below….
8. "What Lovers Do" – Maroon 5 (Debut!)
7. "Back to You" – Louis Tomlinson feat. Bebe Rexha
6. "Two Ghosts" – Harry Styles
5. "Feel It Still" – Portugal the Man
4. "Lights Down Low" – Max feat. Gnash
3. "What About Us" – Pink
2. "Friends" – Justin Bieber feat. Bloodpop
1."Look What You Made Me Do" – Taylor Swift
Taylor continues to dominate our show, "Look What You Made Me Do" takes it's 4th night at #1 on the show. If you would like to see her stay there when the show continues on Monday night please remember you have the power. Please remember to cast your votes weeknights from 5-7:30 p.m. CDT by either calling 217-844-HITS, texting 217-218-0288, or by leaving your vote at The Party's Facebook Page!