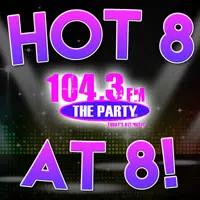 It's Hump Day! Happy Wednesday and welcome back to The Night Club with Carman and other go round of the Hot 8@8 Countdown with Smoky's House BBQ in Charleston!!! Now the song that is unstoppable right now and just flying up the charts is the new one from Taylor…"Look What You Made Me Do", see below to see where she falls tonight…..
8. "Feel It Still" – Portugal the Man
7. "Bad at Love" – Halsey
6. "Two Ghosts" – Harry Styles
5. "Lights Down Low" – Max feat. Gnash
4. "What Lovers Do" – Maroon 5
3. "Friends" – Justin Bieber feat. Bloodpop
2. "What About Us" – Pink
1."Look What You Made Me Do" – Taylor Swift
That marks a 7th night in a row!!! Taylor proving to be unstoppable, to keep her streak going you can help decide the outcome weeknights by simply casting your ballots. Please do so Monday through Friday from 5-7:30 p.m. CDT by either calling 217-844-HITS, texting 217-218-0288, or by leaving your vote at The Party's Facebook Page!