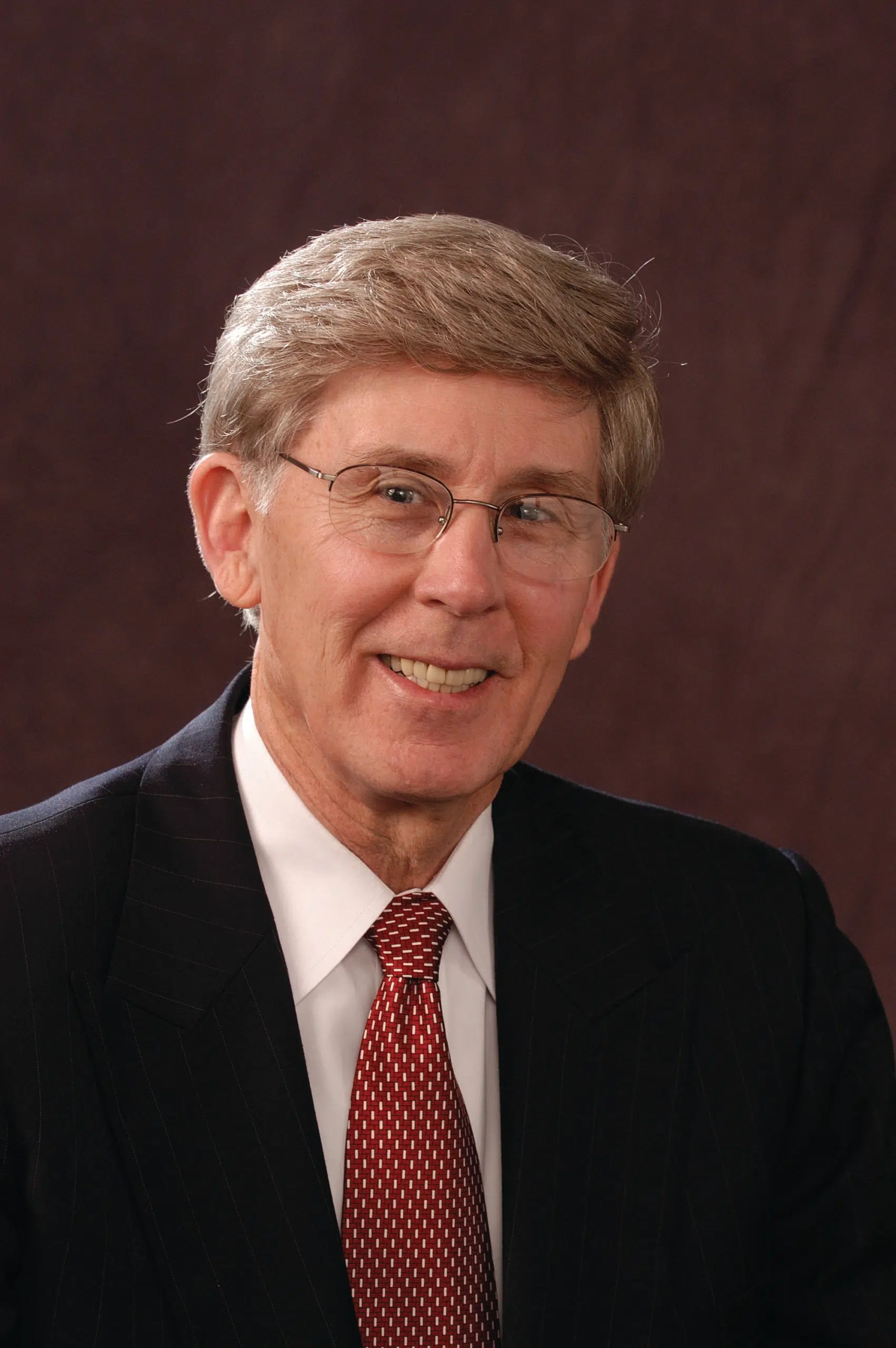 The Lake Land College community fondly remembered former president Robert K. Luther following news of his passing on Sept. 13, 2017.
Luther joined the Lake Land College community in 1988 as the fourth president of Lake Land College and retired in June 2006. In 2011 Luther was elected to the Lake Land College Board of Trustees where he served a six year term and was re-elected earlier this year.
"As the college's fourth president, Dr. Luther was the longest serving president in Lake Land's history. His service as Lake Land's president spanned across three decades. During his tenure as president, Dr. Luther fostered a culture of innovation and student-centeredness, strengthened the college's financial foundation, greatly enhanced the beautiful campus we have today and brought national acclaim to our academic excellence. He continued his passion and support for Lake Land while serving on our board. His wise guidance and keen insights will be missed greatly by the college community," Lake Land College President Josh Bullock said.
Under his leadership, Lake Land College emerged as a leader in technology, new programming, enrollment growth and innovation. His vision for growth and excellence led Lake Land to win numerous state and federal awards in these areas. All the while, he continued to foster a community college culture established by his predecessors in which students always came first.
Upon his retirement in 2006, Mike Sullivan, who served as the chairman of the board of trustees at the time, said "Returning to his hometown in nearby Charleston, Luther provided the leadership that has allowed Lake Land College to emerge as one of the fastest growing and most respected community colleges in Illinois and the nation. Lake Land College is now fiscally sound, its faculty and board of trustees are united, and the beauty of its campus and furnishings has become an icon for the central Illinois community college. Many Illinois community colleges now look toward Dr. Luther and Lake Land for guidance and leadership in innovation, technology and statewide issues.  He is well respected among Illinois community colleges, state legislators, and the business community."
Innovation was one of the keystones of Luther's presidency. Facing dire financial times, he led faculty and staff to develop new academic courses and programs, create revenue-generating programs and secure funding sources. Innovation also led Lake Land to be one of the first colleges in the state to develop a core value program centered on student success.
Online learning, partnerships with state and business organizations and personal relationships that generated private giving are also among the cornerstones of his presidency. During this time, the Foundation experienced tremendous growth, three new buildings were constructed and enrollment increased every year.
Knowing how important financial assistance was to students and their success, one of Luther's top priorities when he joined Lake Land College was to build the Foundation's assets. He challenged the Lake Land College Foundation Board of Directors to increase its fund raising efforts from an annual fund drive of $50,000 to more than $300,000. That standard continues today with the Foundation helping more than 500 students with scholarships each year. He and his wife Judy also strongly supported the Foundation with personal gifts.
Another area of focus for Dr. Luther was athletics. In his initial years he focused on strengthening women's sports and devoted college resources to building a competitive athletic program. As president and into his retirement, he attended as many athletic games and matches as possible. He was honored to be inducted into the Lake Land College Athletic Hall of Fame in 2005 shortly before his retirement.
In April 2011, Lake Land honored Dr. Luther for his tremendous impact on the college by renaming the Student Center building the Robert K. Luther Student Center.
During the dedication ceremony, Jim Shaffer, who was the chairman of the board of trustees at the time, said, "I was on the board when we hired the young Robert Luther as the fourth president of Lake Land College. He had a background in student services leadership and at that time we were impressed with him and had great expectations for the future of the college. We didn't realize how far he would exceed our expectations. As a board, we cared a lot about the students and employees and Dr. Luther always kept them in mind when proposing new ideas for us to consider. Those ideas usually centered around improving services provided to students."
As a tireless advocate for the college throughout the state and beyond, Dr. Luther propelled Lake Land College into a leader at the state and national level. He shared his passion for Lake Land and the community college system by serving on several local and statewide committees and organizations and continued in this role into his retirement as a member of the Lake Land College Board of Trustees.
In the workforce development arena, Luther provided the leadership to develop an Illinois Employment and Training Center/Workforce Development Center which was hailed by Illinois officials as the state model. Through his leadership, the region's first Manufacturing Skills Training Lab was established through the Center for Business & Industry and was replicated by the state of Wyoming. In 1993, the college formed a partnership with John Deere Corporation to provide training for its technicians, followed by Ag Sales and Pro Tech. Through a partnership with the Illinois Department of Transportation, the college became and remains the sole provider of training for concrete and asphalt contractors.
He urged the former governor to have community college representation on the Illinois Student Assistance Commission and was appointed to serve on that commission. He was appointed by former governor Jim Edgar to serve on the Illinois Human Resource Investment Council and served as chair of the Employment Opportunities Committee. The Illinois Community College Board (ICCB) appointed Luther as one of the primary representatives on the state Post-Secondary Review of Institutions committee, whose recommendations were forwarded to the federal government for consideration of changes to the financial aid guidelines.
Appointed by ICCB, Luther served on the Illinois Board of Higher Education Workforce Development Task Force, which developed a comprehensive strategic plan including the role of education for workforce development.  He was appointed by ICCB to serve as chair of the Strategic Planning Committee and served as co-chair on a statewide funding study task force, which addressed issues and concerns of the state's funding formula. Former governor George Ryan appointed him to a statewide task force on the employability of ex-offenders.
Appointed by ICCB to the Adult Education Oversite Committee, Luther successfully helped lead the effort to obtain support for the passage of legislation that moved the administrative responsibilities and funding from the Illinois State Board of Education to the ICCB.  He served as president of the Illinois Council of Community College Presidents, and chair of the legislative and student services committees. On the local level, he was a member and past president of the Coles Together Board of Directors, a member of the Christian County Development Corporation Board of Directors, and past president of the East Central Illinois Development Corporation, all essential organizations to the area's economic development.
Luther was the recipient of numerous awards including the Agriculture Education Advocacy Award of Illinois, Coles Together Person of the Year Award and Mattoon Chamber Citizen of the Year in 2005.  Under his leadership, the college received numerous awards including a golden award in website design in the 2001 Annual Admissions and Marketing Report National Advertising Awards competition and the 1988 American Association of Community Colleges (AACC) Outstanding Alumnus Achievement Award for Dr. Kristene Koontz Gugliuzza.
State awards include the Illinois Community College Board 2004 Teaching/Learning Award; Core Values; Learning-centered Instruction, 2003, 1998 and 1999; ICCB Award for Excellence in Substance Abuse; and 1999 ICCB Award for Excellence in Workforce Education. The college also received the 2004 Instructional Technology Council Award for Excellence in Distance Learning Outstanding Technical Support and Service; the Secondary and Postsecondary Collaboration Award from the Illinois State Board of Education recognizing Tech Prep's exemplary work with high school and college-level students and teachers; the ICCB Perkins Performance Award for meeting or exceeding core indicators of the Carl Perkins Title III IIC Grant in 2002 and 2003; the 2000 Illinois Council of Community College Administrators Innovation Award for the Helping Paws program; and the 2000 ICCCA Innovation Award for GIS/GPS, an interdisciplinary associate degree program, combining disciplines of agriculture, earth science, chemistry and civil engineering technology. The college's postsecondary education building construction program at Taylorville Correctional Center received state recognition for constructing more than 35 Habitat for Humanity homes. During his tenure, the college's faculty and staff received numerous state and national awards including the David R. Pierce Faculty Technology Award sponsored by AACC.
A Charleston native, Luther previously served as president of Columbia-Greene Community College in New York, and acting president and vice president of Carl Sandburg College in Galesburg.  Luther received a doctorate from the University of Michigan and master's and bachelor's degrees from Eastern Illinois University. He and his wife, Judy, have two grown daughters, Kari and Dana, and four grandchildren.