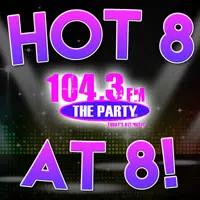 Happy Throwback Thursday! Welcome back to The Night Club with Carman and another round of The Hot 8@8 Countdown with Smoky's House BBQ in Charleston! Of course given the day of the week, we will have an old school favorite spun backwards for Pop Culture Trivia,but first we have to count them down and exciting to say we have one new entry, or first since Monday night…see what you helped decide tonight…..
8. "Mi Gente" – J Balvin feat. Willie Williams (Debut!)
7. "Two Ghosts" – Harry Styles
6. "Bad at Love" – Halsey
5. "Friends" – Justin Bieber feat. Bloodpop
4. "What Lovers Do" – Maroon 5
3. "Lights Down Low" – Max feat. Gnash
2. "What About Us" – Pink
1."Look What You Made Me Do" – Taylor Swift
That marks a grand total of 8 nights now for Taylor Swift's "Look What You Made Me Do!" You can help decide if the song will go a 9th night and close out it's second week at #1 when voting re-opens tomorrow from 5-7:30 p.m. CDT. Cast your vote by either calling 217-844-HITS, texting 217-218-0288, or by leaving your vote at The Party's Facebook Page!