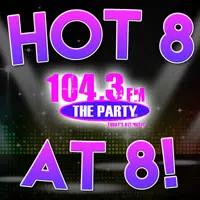 It's Tuesday and time for your second Hot 8@8 Countdown for the week with Smoky's House BBQ in Charleston all part of The Night Club with Carman! Now last night as we kicked off a fresh week, Taylor Swift took the top spot again (10th night in total) with "Look What You Made Me Do", she also had her other new single made a first time appearance. I'll say there are no new entries tonight, but some shuffling has occurred, see tonight's results below….
8. "Friends" – Justin Bieber feat. Bloodpop
7. "Too Good at Goodbyes" – Sam Smith
6. "What About Us" – Pink
5. "Ready For It" – Taylor Swift
4. "Lights Down Low" – Max feat. Gnash
3. "Bad at Love" – Halsey
2. "What Lovers Do" – Maroon 5
1. "Look  What You Made Me Do" – Taylor Swift
That marks an 11th night total now for Taylor Swift's latest! Please remember every weeknight you can help determine the outcome by casting your ballot from 5-7:30 p.m. CDT. Simply call 217-844-HITS, texting 217-218-0288, or  by leaving your vote at The Party's Facebook Page!