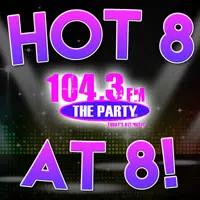 It's Throwback Thursday! Welcome back to an old-school feel round of the Hot 8@8 Countdown with Smoky's House BBQ in Charleston all part of The Night Club with Carman! Of course for Pop Culture Trivia we will have a retro-rewind favorite spun backwards which you will have to identify, but first we have to get to your results. Now last night Maroon 5 took over the top spot for the first time with "What Lovers Do", can they outshine Taylor again tonight??? See what your votes helped determine below….
8. "Lights Down Low" – Max feat. Gnash
7. "Two Ghosts" – Harry Styles (Re-Entry!)
6. "Too Good at Goodbyes" – Sam Smith
5. "What About Us" – Pink
4. "Ready For It" – Taylor Swift
3. "Bad at Love" – Halsey
2. "Look What You Made Me Do" – Taylor Swift
1."What Lovers Do" – Maroon 5
They hold her off and go a second night straight at the top! Please remember weeknights you can cast your vote and help decide where the songs fall. Please be sure to do so every weeknight from 5-7:30 p.m. CDT by either calling 217-844-HITS, texting 217-218-0288, or by leaving your votes at The Party's Facebook Page!