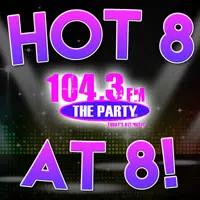 Finally Friday!!! Somehow we made it to the end of the week, and we're going to kick off your weekend with your weeknight tradition here in the Night Club with Carman…your Hot 8@8 Countdown with Smoky's House BBQ in Charleston, the final show for the week of September 18th through the 22nd. Now this week its been an interesting one for Maroon 5 has been able to knock Swift from our #1 spot. The group has been in the top spot for the past two nights, see if they will go for a 3rd tonight below….
8. "New Rules" – Dua Lipa (Re-Entry!)
7. "What About Us" – Pink
6. "Two Ghosts" – Harry Styles
5. "Too Good at Goodbyes" – Sam Smith
4. "Ready For It" – Taylor Swift
3. "Bad at Love" – Halsey
2. "What Lovers Do" – Maroon 5
1."Look What You Made Me Do" – Taylor Swift
Say WHAT??!! After two nights Taylor reclaims our #1 spot!!! Anything can happen with the show. That marks a grand total of 12 nights for the song being #1. If you would like to help keep it or change it, please remember you can help decide the outcome. When the countdown resumes on Monday night, please remember to cast your vote from 5-7:30 p.m. CDT. Simply call 217-844-HITS, text 217-218-0288, or leave your vote at The Party's Facebook Page!