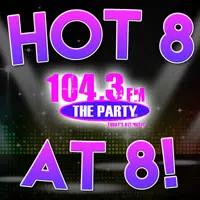 It's Monday! Hope you had a fantastic weekend and was able to stay cool when we saw an unusually hot first weekend of fall. Anyways, it's back to another work week and of course here in the Night Club with Carman it's time for another Hot 8@8 Countdown with Smoky's House BBQ in Charleston! Now a little refresher from where we left things on Friday night….After two nights slipping from her reign Taylor Swift regained the top spot with "Look What You Made Me Do"…will her current major competition, Maroon 5, regain the the top spot, will Taylor dominate, or something completely different??? Check out Monday nights' results below….
8. "Love So Soft" – Kelly Clarkson (Debut!)
7. "Two Ghosts" – Harry Styles
6. "New Rules" – Dua Lipa
5. "Too Good at Goodbye" – Sam Smith
4. "Ready For It" – Taylor Swift
3. "Look What You Made Me Do" – Taylor Swift
2. "Bad at Love" – Halsey
1."What Lovers Do" – Maroon 5
Last week they were #1 Wednesday and Thursday, and tonight they are back! "What Lovers Do" is #1 for a combined total night of 3 now! Anything can happen with the countdown, so please be sure to cast your votes weeknights from 5-7:30 p.m. CDT by either calling 217-844-HITS, texting 217-218-0288, or by leaving your vote at The Party's Facebook Page!