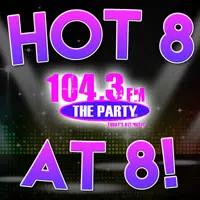 We made it to the Hump! Happy Wednesday and welcome back to the Night Club with Carman and another round of the Hot 8@8 Countdown with Smoky's House BBQ in Charleston!!! Now so far  this week Maroon 5  has been the ones to beat for "What Lovers Do" has managed to hold onto the top spot for the 4th time total on our show. Will they go a 5th tonight or could something new take over the top spot? See what you helped decide for your Wednesday below….also tonight a debut from a Disney Channel Star turned Musician….
8. "Why" – Sabrina Carpenter (Debut!)
7. "Love So Soft" – Kelly Clarkson
6. "Ready For It" – Taylor Swift
5. "New Rules" – Dua Lipa
4. "Bad at Love" – Halsey
3. "Too Good at Goodbyes" – Sam Smith
2. "Look What You Made Me Do" – Taylor Swift
1."What Lovers Do" – Maroon 5
The group dominates once more! Maroon proving they are the ones to defeat. Please remember every weeknight you can help determine the outcome by simply casting your ballot from 5-7:30 p.m. CDT. Simply call 217-844-HITS, text 217-218-0288, or leave your vote at The Party's Facebook Page!