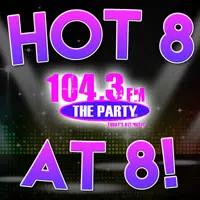 Finally it's FRIDAY!!! Somehow, we've made it to end of the week and it's time to kick things off here in the Night Club with Carman with your final Hot 8@8 Countdown with Smoky's House BBQ in Charleston for not only the week of September 25th through the 29th, but also the final show for the month of September 2017! Now all this week, Maroon 5 has been the group to beat for "What Lovers Do" has held onto the top spot, marking a grand total of 6 nights…thus far. Will they go 7 tonight? See what you helped decide….
8. "Do Re Mi" – Blackbear (Debut!)
7. "Why" – Sabrina Carpenter
6. "Love So Soft" – Kelly Clarkson
5. "New Rules" – Dua Lipa
4. "Ready For It" – Taylor Swift
3. "Look What You Made Me Do" – Taylor Swift
2. "Too Good at Goodbyes" Sam Smith
1."What Lovers Do" – Maroon 5
That marks a grand total of 7 nights for the latest from Maroon 5! Not a bad place to be ending the month and the week. Please remember, when the countdown resumes on Monday night, you can help determine the outcome! Please be sure to cast your vote every weeknight from 5-7:30 p.m. CDT by either calling 217-844-HITS, texting 217-218-0288, or by leaving your vote at The Party's Facebook Page!