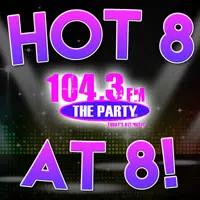 Happy Tuesday, and welcome back to the Hot 8@8 Countdown all part of The Night Club with Carman! It's the second show for the week and month, and kicking it all of yesterday at #1 was Maroon 5 with "What Lovers Do" for the 9th consecutive time! What will your results help determine tonight? Check out the results!
8. "Why" – Sabrina Carpenter
7. "Look What You Made Me Do" – Taylor Swift
6. "Thunder" – Imagine Dragons
5. "New Rules" – Dua Lipa
4. "Love So Soft" – Kelly Clarkson
3. "What Lovers Do" – Maroon 5
2. "Ready For It" – Taylor Swift
1."Too Good at Goodbyes" – Sam Smith
Wow, a two spot fall for Maroon 5, which makes room for Sam Smith to claim the top spot for the first time with "Too Good at Goodbyes!" Anything can happen with this countdown when you help decide the outcome, so please remember to get in a vote, or two, weeknights from 5-7:30 p.m. CDT by either calling 217-844-HITS, texting 217-218-0288, or by leaving your vote at The Party's Facebook Page!