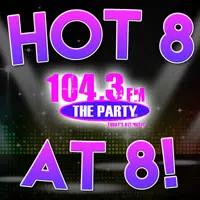 Welcome back to the Night Club with Carman! It's time for my favorite Hot 8@8 Countdown for the week with Smoky's House BBQ in Charleston, your Throwback Thursday Edition! Of course for Pop Culture Trivia we will reverse an old-school favorite for your chance at free grub! You can help decide the outcome weeknights, see what's #1 tonight, for the past two nights it's been Sam Smith with "Too Good at Goodbye"….
8. "Do Re Mi" – Blackbear
7. "Perfect" – Ed Sheeran (Debut!)
6. "New Rules" – Dua Lipa
5. "What Lovers Do" – Maroon 5
4. "Thunder" – Imagine Dragons
3. "Love So Soft" – Kelly Clarkson
2. "Ready For It" – Taylor Swift
1."Too Good at Goodbyes" – Sam Smith
That marks a third consecutive night now for the latest from Sam Smith! Please remember Monday through Friday you can cast your ballot and help decide the outcome of the show. Please remember to do so from 5-7:30 p.m. CDT by either calling 217-844-HITS, texting 217-218-0288, or by leaving your vote at The Party's Facebook page!