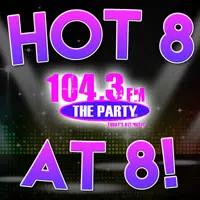 Finally, we made it to FRIDAY!!! It's been a roller coaster of a week, but we're kicking off your weekend with The Night Club with Carman and your final Hot 8@8 Countdown for the week ending October 2nd through the 6th with Smoky's House BBQ in Charleston!!! Now this week's been kind of interesting because we've seen two different songs be #1…Maroon 5 and Sam Smith…which Sam has been there the past 3 nights, what will tonight's results be??? Check em' out below….One debut tonight too!
8. "Havana" – Camila Cabello feat. Young Thug (Debut!)
7. "Do Re Mi" – Blackbear
6. "Perfect" – Ed Sheeran
5. "New Rules" – Dua Lipa
4. "Thunder" – Imagine Dragons
3. "Love So Soft" – Kelly Clarkson
2. "Too Good at Goodbye" – Sam Smith
1."Ready For It" – Taylor Swift
WHAT?! After 3 nights Sam has already fallen and made room for yet anther #1 for Taylor…"Ready For It" takes #1 for the first time. Please remember with you helping control the placing of the songs…anything can happen! When voting opens once again Monday night, you can cast your votes. Please remember to do so from 5-7:30 p.m. CDT weeknights by either calling 217-844-HITS, texting 217-218-0288, or by leaving your votes at The Party's Facebook Page!