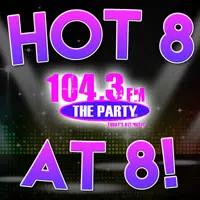 We've made it to the Hump! Happy Wednesday and welcome back into the Night Club with Carman! It's time once more for what I like to call your mid-point Hot 8@8 Countdown for the week with Smoky's House BBQ in Charleston! Last night, for the 5th time in total Sam Smith was the once to beat again for "Too Good at Goodbye" was at the top. What will the outcome be tonight??? See what your votes helped decide below….
8. "Do Re Mi" – Blackbear
7. "Havana" – Camila Cabello feat. Young Thug
6. "Love So Soft" – Kelly Clarkson
5. "Why" – Sabrina Carpenter
4. "Perfect" – Ed Sheeran
3. "Ready For It" – Taylor Swift
2. "Thunder" – Imagine Dragons
1."Too Good at Goodbye" – Sam Smith
That marks 6 nights now for Sam at #1! Please remember every weeknight you can help decide the outcome by simply casting your vote for your favorite new song! Please do so when voting opens from 5-7:30 p.m. CDT  by either calling 217-844-HITS, texting 217-218-0288, or by leaving your vote at The Party's Facebook Page!