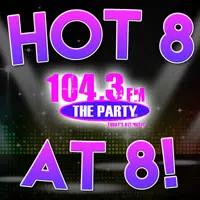 Welcome in to your Throwback Thursday Hot 8@8 Countdown for the week with Smoky's House BBQ in Charleston!!! Of course it's all part of The Night Club with Carman and given the day of the week we will have an old-school favorite spun backwards for Pop Culture Trivia…your chance at free grub to Smoky's House BBQ in Charleston! Now all this week only one song has seen the top spot…Sam Smith with "Too Good at Goodbye." Check out tonight's results to see what songs made the cut…..
8. "Do Re Mi" – Blackbear
7. "Why" – Sabrina Carpenter
6. "Perfect" – Ed Sheeran
5. "Havana" – Camila Cabello feat. Young Thug
4. "Love So Soft" – Kelly Clarkson
3. "Ready For It" – Taylor Swift
2. "Thunder" – Imagine Dragons
1."Too Good at Goodbye" – Sam Smith
Another night Sam Smith goes at #1! That marks a grand total of 7 nights now for the last from the Grammy Winner. Too see Smith close out the week at the top of the show, please remember to cast your ballot when voting opens from 5-7:30 p.m. CDT. Either call 217-844-HITS, text 217-218-0288, or leave your vote at The Party's Facebook Page!