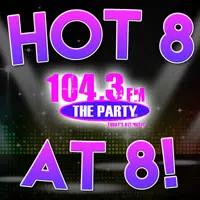 Not only is it Friday…but also Friday the 13th…in October to boot!!! Hopefully any superstition(s) you may have today get wiped away by taking a break to enjoy your finally Friday edition of the Hot 8@8 Countdown with Smoky's House BBQ in Charleston all part of The Night Club with Carman! Now for the entire week only one song has seen our #1 spot…Sam Smith with "Too Good at Goodbye"…will Smith enjoy a solid week at the top making his #1 stay 8 nights total??? Check out your Friday night results below…..
8. "Why" – Sabrina Carpenter
7. "Do Re Mi" – Blackbear
6. "Perfect" – Ed Sheeran
5. "Ready For It" – Taylor Swift
4. "Havana" – Camila Cabello feat. Young Thug
3. "Love So Soft" – Kelly Clarkson
2. "Thunder"- Imagine Dragons
1."Too Good at Goodbye" – Sam Smith
No bad luck on Sam Smith's side tonight, he takes #1 yet again, in fact making his #1 stay a grand total of 8 nights now! When the countdown resumes on Monday night, please be sure to cast your ballot. Voting is open Monday through Friday from 5-7:30 p.m. CDT by either calling 217-844-HITS, texting 217-218-0288, or by leaving your vote at The Party's Facebook Page!