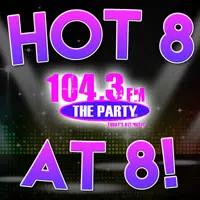 It's Monday, welcome back to a fresh week of the Night Club with Carman and the Hot 8@8 Countdown with Smoky's House BBQ in Charleston!!! Hope you had a fantastic weekend and in case you need a little refresher from where we left things on Friday night….for the 8th time in total Sam Smith took our top spot with "Too Good at Goodbye"…check out what the first show for the week has in store below….
8. "Let Me Go" – Hailee Steinfeld feat. Alesso & Florida Georgia Line (Debut!)
7. "Do Re Mi" – Blackbear
6. "Ready For It" – Taylor Swift
5. "Love So Soft" – Kelly Clarkson
4. "Havana" – Camila Cabello feat. Young Thug
3. "Perfect" – Ed Sheeran
2. "Too Good at Goodbye" – Sam Smith
1."Thunder" – Imagine Dragons
A new week and a new song at #1!!! Imagine Dragons take it with "Thunder!" If the "thunder" rages on a second night, please remember you have a say in how the songs place. Please be sure to cast your vote every weeknight from 5-7:30 p.m. CDT by either calling 217-844-HITS, texting 217-218-0288, or by leaving your vote at The Party's Facebook Page!