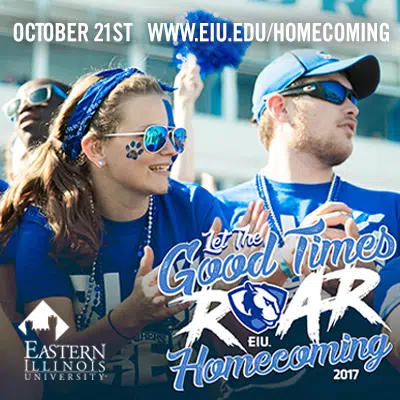 It's Homecoming week at EIU!  Tonight (Monday, October 16) is coronation at McAfee Gym at 7pm.
EIU Homeco,ing continues with "Welcome to the Jungle" family fun night, Tuesday, October 17 from 5:00-7:00 in the Grand Ballroom
On Wednesday, October 18 it is EI-United hurricane relief effort across campus.
EIU Homecoming week continues Thursday, October 19 with "Let's Glo Wild" cosmic bowling from 7:00-9:00 at the union.
Friday, October 20 it is "You Do Blue" campus-wide; the class of '67, and football/cheer team reunions; and the pep rally, from 7:00-9:00 p.m. at McAfee Gym south.
Get up early on Saturday, October 21!  It's the Rotary pancake breakfast from 6:30-10:00 a.m. in Dirty's parking lot; homecoming race at 9:00 a.m.; the parade at 9:30; alumni tent city at O'Brien Field from 11-1; homecoming game against Jacksonville State at 2:00.
Find out more, here:  http://www.eiu.edu/homecoming/events.php