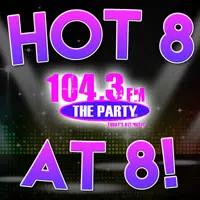 It's Tuesday and time once again for the night time tradition here in The Night Club…The Hot 8@8 Countdown with Smoky's House BBQ in Charleston! Now last night, as we kicked off a fresh week, Imagine Dragons took our top spot for the first time with "Thunder"…will the "Thunder" rage on another night at the top tonight??? See what your votes helped decide…also tonight a new entry from a Jonas Brother!
8. "Find You" – Nick Jonas (Debut!)
7. "Let Me Go" – Hailee Steinfeld feat. Alesso & Florida Georgia Line
6. "Do Re Mi" – Blackbear
5. "Love So Soft" – Kelly Clarkson
4. "Perfect" – Ed Sheeran
3. "Havana" – Camila Cabello feat. Young Thug
2. "Too Good at Goodbye"- Sam Smith
1."Thunder" – Imagine Dragons
That marks 2 nights and count is on for Imagine Dragons! Please remember every weeknight from 5-7:30 p.m. CDT you can help decide the outcome. Just remember to cast your ballot by calling 217-844-HITS, texting 217-218-0288, or by leaving your vote at The Party's Facebook Page!