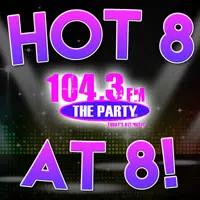 Another week has come and gone, and kicking off your weekend is your Finally Friday edition of the Hot 8@8 Countdown with Smoky's House BBQ in Charleston all part of the Night Club with Carman!!! It's the final show for the week of October 16th through the 20th and all week Imagine Dragons have been striking up a storm with their latest smash "Thunder"…..will they close out the week strong and go a 5th night at #1??? See what you helped determine below…..
8. "Bodak Yellow" – Cardi B
7. "Love So Soft" – Kelly Clarkson
6. "Let Me Go" – Hailee Stienfeld feat. Alesso & Florida Georgia Line
5. "Do Re Mi" – Blackbear
4. "Too Good at Goodbye" – Sam Smith
3. "Havana" – Camila Cabello feat. Young Thug
2. "Perfect" – Ed Sheeran
1. "Thunder" Imagine Dragons
Imagine Dragons are not going anywhere yet! They go a 5th night straight at the top and not a bad place to be heading into the weekend. Monday when the countdown resumes please remember you can have a say in what the new week will bring. Please remember you have the power to cast your ballot for your favorite new track, voting is open Monday through Friday from 5-7:30 p.m. CDT by either calling 217-844-HITS, texting 217-218-0288, or by leaving your vote at The Party's Facebook Page!