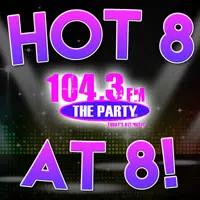 It's Tuesday, October 24th and time for another round of the Hot 8@8 Countdown with Smoky's House BBQ in Charleston all part of the Night Club with Carman! Now last night, Imagine Dragons kicked off the new week remaining in tact with "Thunder"…it marked the song's 6th night consecutively #1 on the show. What will be the outcome tonight…see what you helped decide…..
8. "Find You" – Nick Jonas (Re-Entry!)
7. "Bodak Yellow" – Cardi B
6. "Rock Star" – Post Malone feat. 21 Savage
5. "Too Good at Goodbye"- Sam Smith
4. "Let Me Go" – Hailee Steinfeld feat. Alesso & Florida Georgia Line
3. "Havana" – Camila Cabello feat. Young Thug
2. Thunder" – Imagine Dragons
1."Perfect" – Ed Sheeran
We have a new #1!!! Any surprise it's from Ed Sheeran??? "Perfect" spends its first night at the top, but will it remain in perfect place tomorrow night? You never know the dragons could re-claim their #1 spot…please remember weeknights you can help decide the outcome. Please remember to cast your vote weeknights from 5-7:30 p.m. CDT by either calling 217-844-HITS, texting 217-218-0288, or by leaving your vote at The Party's Facebook Page!