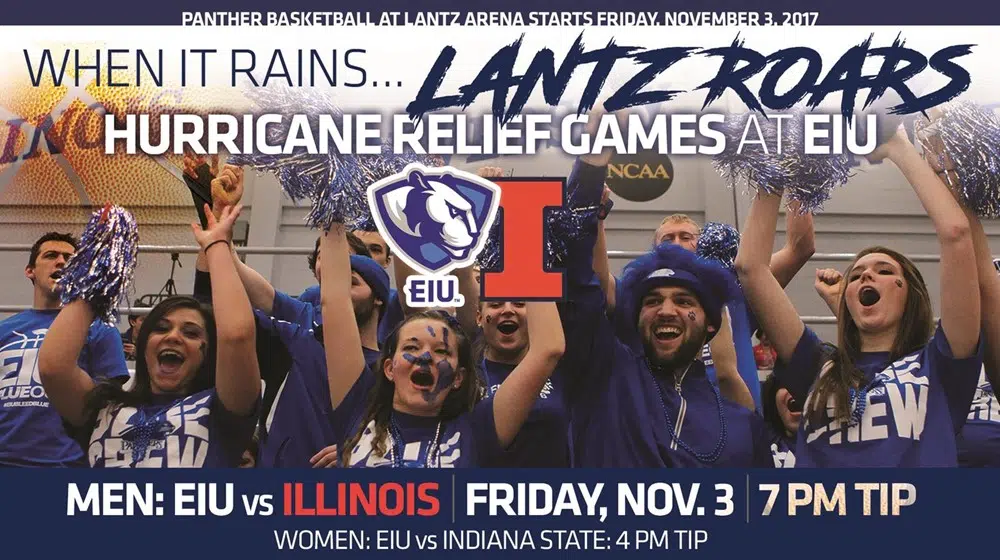 CHARLESTON, Ill. – Eastern Illinois University men's and women's basketball will play a basketball doubleheader on Friday, Nov. 3 as both teams have been granted a one-time NCAA waiver to play an additional exhibition game with proceeds to go towards a pre-determined disaster relief effort.
The EIU men will host the University of Illinois at 7 p.m. with the women's hosting Indiana State University at 4 p.m.   Doors to Lantz Arena will be open at 3:30 p.m. on Friday afternoon for the two games.
Tickets for the event will go on sale on Monday morning at 8:30 a.m. and cost $10.   Tickets can be purchased at the EIU Ticket Office in Lantz Arena, by calling 217-581-2106 or online at www.eiupanthertickets.com
A limited number of tickets for Eastern Illinois students will be available in the EIU student section on the floor.  To access this area, EIU students must show a valid EIU student ID to enter and must enter on the lower east side of Lantz Arena (tennis court/basketball court side) of the building to access the student section.   Students will not be allowed to enter for free on the upper level.
Season ticket holders for Eastern Illinois basketball will have the first right of refusal on their current seat location.  All upper level seating will be a general admission ticket and all patrons must have a ticket to enter the seating area.
Earlier this month, the NCAA granted Division I college basketball programs a waiver to participate in a third exhibition game if proceeds go towards pre-determined disaster relief.   The proceeds from Friday's doubleheader will go to the American Red Cross.
Both EIU basketball teams will then return to Lantz Arena on Monday, Nov. 6 for a basketball exhibition doubleheader.  The women will host Rose-Hulman at 5:15 p.m. followed by the men's game against Southern Indiana at 7:30 p.m .