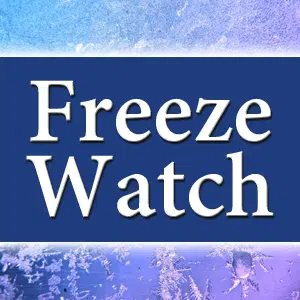 First Freeze of the Season Expected Saturday Night…
Knox-Stark-Peoria-Marshall-Woodford-Fulton-Tazewell-McLean-Schuyler-Mason-Logan-De Witt-Piatt-Champaign-Vermilion-Cass-Menard-Scott-Morgan-Sangamon-Christian-Macon-Moultrie-Douglas-Coles-Edgar-Shelby-Cumberland-Clark-Effingham-Jasper-Crawford-Clay-Richland-Lawrence-Fayette
…FREEZE WATCH IN EFFECT FROM SATURDAY EVENING THROUGH SUNDAY MORNING…
The National Weather Service in Lincoln has issued a Freeze Watch, which is in effect from Saturday evening through Sunday morning.
* TEMPERATURE…Low temperatures will bottom out in the middle to upper 20s Saturday night.
* IMPACTS…Any sensitive vegetation left outdoors will likely be killed by the cold temperatures.
PRECAUTIONARY/PREPAREDNESS ACTIONS…
A Freeze Watch means sub-freezing temperatures are possible.  These conditions could kill crops and other sensitive vegetation.