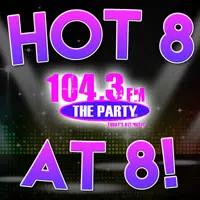 Happy Friday!!! We made it to the end of the week and it's time for your final Hot 8@8 Countdown with Smoky's House BBQ in Charleston for the week of October 23rd through the 27th all part of The Night Club with Carman! Now this week it's been a battle between Imagine Dragons and Ed Sheeran because both songs have been #1 this week, which one will close out the week tonight? Check our results below….also one new entry tonight too!
8. "Young, Dumb, and Broke" – Khalid feat. Rae Sremmurd & Lil' Yachty (Debut!)
7. "He Like That" – Fifth Harmony
6. "Good Ole' Days' – Macklemore feat. Ke$ha
5. "Havana" – Camila Cabello feat. Young Thug
4. "Bodak Yellow" – Cardi B
3. "Rock Star" – Post Malone feat. 21 Savage
2. "Thunder" – Imagine Dragons
1."Perfect" – Ed Sheeran
Ed reclaims his throne! That marks "Perfect" as a #1 on our show for 2 nights now, however not consecutively. Please remember when the countdown resumes on Monday night you have the power to determine the outcome. Please be sure to cast your vote from 5-7:30 p.m. CDT by either calling 217-844-HITS, texting 217-218-0288, or by leaving your vote at The Party's Facebook Page!