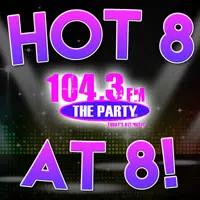 It's Monday and welcome back to another round of the Hot 8@8 Countdown with Smoky's House BBQ in Charleston all part of the Night Club with Carman! Hope you enjoyed you weekend, got some Pre-Halloween activities in and are getting ready for the big spooky night happening tomorrow. However, right now we got to countdown some of your favorite new songs and if you need a little refresher from Friday night…Ed Sheeran reclaimed the top spot with "Perfect"…the song has been #1 for two nights now on the show…What will Monday night bring…check out results below!
8. "Young, Dumb, & Broke" – Khalid feat. Rae Sremmurd & Lil Yachty
7. "How Long" – Charlie Puth (Debut!)
6. "Good Ole' Days" – Macklemore feat. Ke$ha
5. "Bodak Yellow" – Cardi B
4. "Thunder" – Imagine Dragons
3. "Havana" – Camila Cabello feat. Young Thug
2. "Rock Star" – Post Malone feat. 21 Savage
1."Perfect" – Ed Sheeran
A new week and Ed Sheeran claims #1 once again! Please remember every weeknight you can help decide the outcome. Please be sure to cast your ballot from 5-7:30 p.m. CDT by either calling 217-844-HITS, texting 217-218-0288, or leave your vote at The Party's Facebook Page!