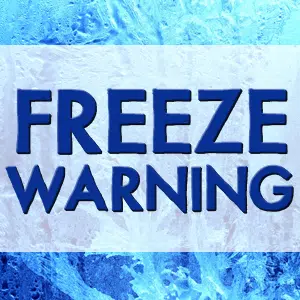 FREEZE WARNING 4 AM to 9 AM EDT TUESDAY FOR THE FOLLOWING INDIANA COUNTIES IN OUR LISTENING AREA:
Vermillion-Parke-Vigo-Clay-Sullivan-Greene-Knox
…FREEZE WARNING  IN EFFECT FROM 4 AM TO 9 AM EDT
TUESDAY…
* TEMPERATURE…Temperatures 30 degrees and below are possible
overnight Monday night and early Tuesday morning.
* IMPACTS…Vegetation that sensitive to temperature may be
damaged or killed.
PRECAUTIONARY/PREPAREDNESS ACTIONS…
A Freeze Warning means sub-freezing temperatures are imminent or
highly likely. These conditions will kill crops and other
sensitive vegetation.