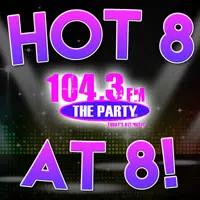 Happy Halloween!!! Welcome in to a spooky edition of the Hot 8@8 Countdown with Smoky's House BBQ in Charleston all part of The Night Club with Carman! It's the final countdown for October 2017, so what will be #1? Could it be Ed Sheeran once again, or will something new take over? Find out what you helped decide below….
8. "Young, Dumb, & Broke" – Khalid feat. Rae Shremmurd & Lil Yachty
7. "Good Ole' Days" – Macklemore feat. Ke$ha
6. "How Long" – Charlie Puth
5. "Thunder" – Imagine Dragons
4. "Bodak Yellow" – Cardi B
3. "Havana" – Camila Cabello feat. Young Thug
2. "Perfect" – Imagine Dragons
1. "Rock Star" – Post Malone feat. 21 Savage
We have a new #1!!! Scary coincidence you think??? Well, I guess we'll have to wait and see what tomorrow brings to see if it will go a 2nd night in a row at the top as we kick off November! Please remember you can help decide the songs and their placing by simply casting a quick vote. Do so weeknights from 5-7:30 p.m. CDT by either calling 217-844-HITS, texting 217-218-0288, or by leaving your vote at The Party's Facebook Page!