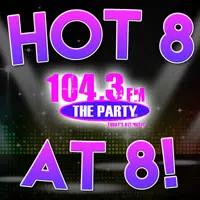 It's Thursday, you know what that means…Throwback Thursday! Welcome back to The Night Club with Carman and another round of the Hot 8@8 Countdown with Smoky's House BBQ in Charleston!!! For pop culture trivia an old-school favorite backwards, but first we got to count down some of the most popular singles as of now! Now for the past 2 nights Post Malone has been at the top of the show with "Rock Star"…Check out your results tonight!
8. "He Like That" – Fifth Harmony (Re-Entry!)
7. "Havana" – Camila Cabello feat. Young Thug
6. "Young, Dumb, & Broke" – Khalid feat. Rae Sremurred feat. Lil Yachty
5. "Good Ole' Days" – Macklemore feat. Ke$ha
4. "How Long" – Charlie Puth
3. "Perfect" – Ed Sheeran
2. "Bodak Yellow" – Cardi B
1. "Rock Star" – Post Malone feat. 21 Savage
That marks the songs 3rd night now at the top and the only song, thus far, to be #1 on the countdown for November! Please remember weeknights you can decide how the outcome fares out. Be sure to cast your vote from 5-7:30 p.m. CDT by either calling 217-844-HITS, texting 217-218-0288, or by leaving your vote at The Party's Facebook Page!