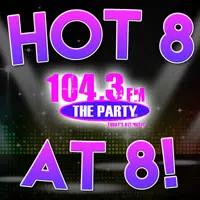 It's Tuesday and time for another round of the Hot 8@8 Countdown with Smoky's House BBQ in Charleston! Your second show for the week, and still thus far for November the only song to be #1 for  the month is "Rock Star" from Post Malone. So check out tonight to see what songs made the cut…also tonight no new entries either….
8. "Let Me Go" – Hailee Stienfeld feat. Alesso & Florida Georgia Line
7. "Perfect" – Ed Sheeran
6. "Too Much to Ask" – Nial Horan
5. "Bodak Yellow" – Cardi B
4. "Young, Dumb, & Broke" – Khalid feat. Rae Sremmurd & Lil' Yachty
3. "Good Ole' Days" – Macklemore feat. Ke$ha
2. "How Long" – Charlie Puth
1."Rock Star" – Post Malone feat. 21 Savage
That marks 6 nights in a row now! The song is proving to be a little unstoppable right now, so please remember when the show picks up tomorrow you can vote once more. Please be sure to do so from 5-7:30 p.m. CDT by either calling 217-844-HITS, texting 217-218-0288, or  by leaving your vote at The Party's Facebook Page!