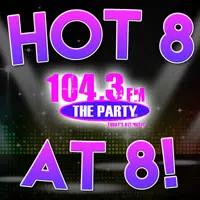 It's  Thursday,Throwback Thursday and welcome back to the Night Club with Carman and another round of the Hot 8@8 Countdown with Smoky's House BBQ in Charleston!!! Given the day of the week, that means we will have an old school favorite spun backwards for Pop Culture Trivia. However, of course we got to start things off by counting down the 8 hottest songs you can't quite get enough of. All this week, only one song has been dominate…."Rock Star" from Post Malone and 21 Savage. Will they two go an 8th night tonight? See below…one new entry tonight as well….
8. "All I Have" – NF (Debut!)
7. "Bodak Yellow" – Cardi B
6. "Let Me Go" – Hailee Steinfeld feat. Alesso & Florida Georgia Line
5. "Too Much to Ask" – Nial Horan
4. "Good Ole' Days" – Macklemore feat. Ke$ha
3. "Young, Dumb, & Broke" – Khalid feat. Rae Sremmurd feat. Lil' Yachty
2. "How Long" – Charlie Puth
1."Rock Star" – Post Malone feat. 21 Savage
That marks an 8th night in a row again! Post Malone and 21 Savage are unstoppable this month thus far. Please remember every weeknight you can help decide the outcome by simply casting your vote. Do so from 5-7:30 p.m. CDT by either calling 217-844-HITS, texting 217-218-0288, or by leaving your vote at The Party's Facebook Page!