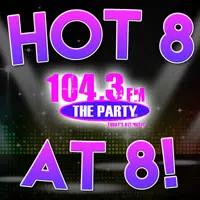 It's Tuesday and time for your second Hot 8@8 Countdown for the week with Smoky's House BBQ in Charleston! Shout-Out to Ricky who helped take over things last night, but Carman is back with you tonight for the Night Club and excited to count down some of your favorite new tracks. Last night it looks like you helped keep "Rock Star" at #1…but will that be the case tonight? If so it will mark the song's 11th night at #1 on the show. Check out your Tuesday results and one new entry too!
8. "Wolves" – Selena Gomez feat. Marshmello (Debut!)
7. "All I Have" – NF
6. "Silence" – Marshmello feat. Khalid
5. "Good Ole' Days" – Macklemore feat. Ke$ha
4. "Too Much to Ask" – Nial Horan
3. "Young, Dumb, & Broke" – Khalid feat. Rae Sremmurd & Lil' Yachty
2. "Rock Star" – Post Malone feat. 21 Savage
1."How Long" – Charlie Puth
A new #1 has ended the Post Malone reign! Charlie Puth takes over things with "How Long." What's also interesting is Marshmellow and Khalid both have two entries on the countdown as well! Please remember weeknights you can help decide the outcome for the show. Be sure to cast your vote from 5-7:30 p.m. CDT by either calling 217-844-HITS, texting 217-218-0288, or by leaving your vote at The Party's Facebook Page!