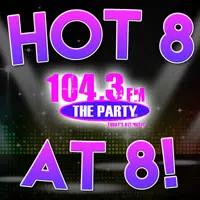 Happy Monday! Hope you had a great weekend and this week it's countdown to Turkey Day…3 days left! Welcome back to The Night Club with Carman and another round of the Hot 8@8 Countdown with Smoky's House BBQ in Charleston! In case you need a little refresher from where we left things on Friday night…after 3 nights at #1 for Charlie Puth, Post Malone and 21 Savage swept back-in and took #1 again with "Rock Star," the two songs have been back n' forth lately…which one will be on top tonight? Check out your results!
8. "Faking It" – Calvin Harris feat. Khalani & Lil Yachty (Debut!)
7. "Silence" – Marhsmellow feat. Khalid
6. "Young, Dumb, & Broke" – Khalid feat. Rae Sremmurd & Lil Yachty
5. "Let You Down" – NF
4. "Wolves" – Selena Gomez feat. Marhmellow
3. "Too Much to Ask" – Nial Horan
2. "Rock Star" – Post Malone feat. 21 Savage
1."How Long" – Charlie Puth
Charlie is back! "How Long" will start the week at #1 on your Monday night show! A lot of artists making two appearances tonight too! Anything can happen with the show, so please be sure to cast your vote every weeknight from 5-7:30 p.m. CDT. Simply call 217-844-HITS, text 217-218-0288, or leave your vote at The Party's Facebook Page!