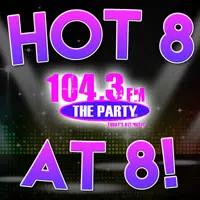 It's Friday and the Hot 8@8 Countdown's big finale for the weekend is on!  Brought to you by Smoky's House of BBQ in Charleston,  and part of the Night Club with Carman and guest host Rickie from the Weekends this evening!    This week has yielded some wild results,  some artists moved up the chain, others fell,  and some finally got their time in the stoplight, with #1 and #2 being very close all week long!  Who's gonna claim reign over the weekend?
8.)   "Silence" by Marshmello & Khalid
7.)   "Faking It" by Calvin Harris feat. Kehlani & Lil Yachty
6.)   "Dusk Till Dawn" by Zayne feat. Sia
5.)   "Rockstar" — Post Malone feat. 21 Savage
4.)   "Let You Down" by NF
3.)   "Wolves" by Selena Gomez & Marshmello
2.)   "How Long" — Charlie Puth
1.)   "Too Much To Ask" by Nial Horan
Nial Horan takes the number one slot tonight!  Charlie Puth dropping down to the number two, and a few other ups and downs from Wednesday. Help decide if they continue to dominate next week!  Vote Monday between 5-7:30p.m. CDT by calling 217-844-HITS. texting 217-218-0288, or leaving a message on our social media, we'll be back Monday with the Countdown!