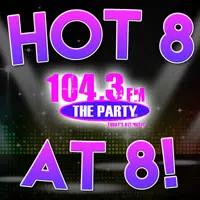 Happy Monday! Hope you all had a Fantastic Thanksgiving Weekend and got some great deals while starting your Holiday Shopping season. However, now that we're winding down and back to another work week, The Night Club with Carman is back and once again time to countdown the Hot 8@8 with Smoky's House BBQ in Charleston!
Shout-Out to Ricky who took things over on Friday night, and based on the results…Friday saw a new #1 song take things over…Nial Horan with "Too Much to Ask"…Will he start the week off just as strong? Check out Monday nights' results below!
8. "Faking It" – Calvin Harris feat. Khalani & Lil Yachty
7. "Young, Dumb, & Broke" – Khalid feat. Rae Sremmurd & Lil Yachty
6. "Dusk Til' Dawn" – Zayne feat. Sia
5. "Rock Star" – Post Malone feat. 21 Savage
4. "How Long" – Charlie Puth
3. "Let You Down" – NF
2. "Wolves" – Selena Gomez feat. Marhsmellow
1."Too Much to Ask" – Nial Horan
That marks 2 nights in a row now for the former One Direction member! Every weeknight, please remember you have a say in how the songs shape out..so please be sure to cast your vote once more tomorrow night. Vote from 5-7:30 p.m. CDT by either calling 217-844-HITS, texting 217-218-0288, or by leaving your vote at The Party's Facebook Page!