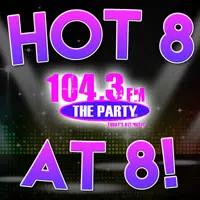 Happy Tuesday! Welcome back to your second Hot 8@8 Countdown for the week with Smoky's House BBQ in Charleston, which of course is all part of The Night Club with Carman! Now last night as we kicked off a fresh week of songs…Niall Horan took our top spot for the 2nd time with his latest "Too Much to Ask." Will the former Boy Band member remain dominate for a 3rd night? Check out tonight's Results!
8. "Young, Dumb, & Broke" – Khalid feat. Rae Sremmurd & Lil Yachty
7. "Faking It" – Calvin Harris feat. Khalani & Lil Yachty
6. "Rock Star" – Post Malone feat. 21 Savage
5. "Dusk Til' Dawn" – Zayne feat. Sia
4. "Let You Down" – NF
3. "How Long" – Charlie Puth
2. "Wolves" – Selena Gomez feat. Marshmellow
1."Too Much to Ask" – Naill Horan
That marks 3 nights and counting! How long can Niall go? Please remember you have a say in how the songs shape out weeknights by simply casting  your vote. Please be sure to do so Monday through Friday from 5-7:30 p.m. CDT by either calling 217-844-HITS, texting 217-218-0288, or by leaving your vote at The Party's Facebook Page!