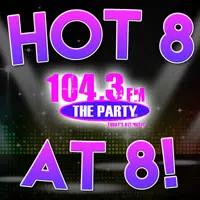 Happy Wednesday, we've made it to the first hump of the Holidays! Welcome back to The Night Club with Carman and what I like to refer as the mid-point Hot 8@8 Countdown for the week with Smoky's House BBQ in Charleston! Now all this week Selena Gomez and Marshmellow have been dominate with "Wolves" will it go a 6th straight night at the top again tonight? Check out the results….one new entry tonight too!
8. "Best Friend" – Sofi Tucker feat. NERVO, The Knocks, & Alisa Ueno (Debut!)
7. "Meant to Be" – Bebe Rexha feat. Florida Georgia Line
6. "Dusk  Til' Dawn" – Zayne feat. Sia
5. "Too Much to Ask" – Niall Horan
4. "Faking It' – Calvin Harris feat. Khalani & Lil Yachty
3. "Let You Down" – NF
2. "End Game" – Taylor Swift feat. Ed Sheeran & Future
1."Wolves" – Selena Gomez feat. Marshmellow
Taylor, Ed and Future came close, but not enough to knock Selena down a notch…that makes her stay at the top 7 nights now! If it stays the same or changes for your Thursday show, please remember you can cast a vote to keep it or change it. Remember voting is open every weeknight from 5-7:30 p.m. CDT by either calling 217-844-HITS, texting 217-218-0288, or by leaving your vote at The Party's Facebook Page!