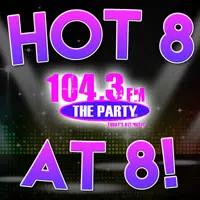 Finally it's FRIDAY!!! Exactly 10 days left to go until Christmas, and it's time here in The Night Club with Carman to once again count em' down…The Hot 8@8 with Smoky's House BBQ in Charleston!!! This week it's been kind of interesting for we've seen some big jumps, one new entry and at #1 Taylor Swift, Ed Sheeran, and Future….where Wednesday night NF took things over. How will  the songs shape out tonight? Check out the show below….
8. "Let You Down" – NF
7. "One Foot" – Walk the Moon
6. "I Like Me Better" – Lauv
5. "Him & I" – G-Eazy feat. Halsey
4. "Meant to Be" – Bebe Rexha feat. Florida Georgia Line
3. "Faking It" – Calvin Harris feat. Kehlani & Lil Yachty
2. "Best Friend" – Sofi Tucker feat. NERVO, The Knocks, & Alisa Ueno
1."End Game" – Taylor Swift feat. Ed Sheeran & Future
After bouncing back into the #1 spot last night, the trio of a collaboration is back on top and looking like here to stay. They will close out the week strong…meanwhile NF is slipping quite a bit. When the show resumes on Monday night,  you can have a say in how the songs place. Once more, please cast your vote weeknights 5-7:30 p.m. CDT by either calling 217-844-HITS, texting 217-218-0288, or by leaving your vote at The Party's Facebook Page!