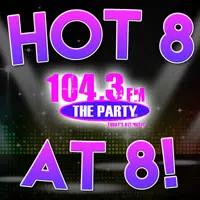 Happy New Year!!! Hope you had fun, stayed warm and safe as we rang in 2018 Sunday night! It's a new year here in The Night Club with Carman and of Course the Hot 8@8 Countdown remains the same with Smoky's House BBQ in Charleston!
Now it's a new year and since it's been Thursday since our last "fresh" show…a little refresher. Ending the year Sofi Tucker held onto the #1 spot with "Best Friend" will she start 2018 off just as strong? Check out your results and also starting the first show…two new entries from two pretty big names!
1. "Him & I" – G-Eazy feat. Halsey
2. "Best Friend" – Sofi Tucker feat. NERVO, The Knocks, & Alisa Ueno
3. "One Foot" – Walk the Moon
4. "Feels Great" – Cheat Codes feat. Fetty Wap
5. "Mic Drop" – BTS feat. Desiigner
6. "Love" – Kendrick Lamar
7. "Beautiful Trauma" – Pink (Debut!)
8. "A Little Work" – Fergie (Debut!)
We have a new #1….after spending almost all December climbing the show…G-Eazy and Halsey top our show! The year and month is still young, but if you would like the two to remain at #1 again tomorrow please vote! Please do so weeknights from 5-7:30 p.m. CDT by either calling 217-844-HITS, texting 217-218-0288, or by leaving your vote at The Party's Social Media Pages!