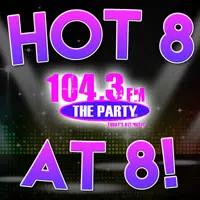 We've made to the hump! The first Wednesday of 2018! Welcome back to the Night Club with Carman and another round of the Hot 8@8 Countdown with Smoky's House BBQ in Charleston! Now last night kicking off the new year was a new song at #1…G-Eazy and Halsey with "Him & I." Find out below if your votes helped maintain their status…..
1. "Him & I" – G-Eazy feat. Halsey
2. "One Foot" – Walk the Moon
3. "Best Friend" – Sofi Tucker feat. NERVO, The Knocks, & Alisa Ueno
4. "Mic Drop" – BTS feat. Desiigner
5. "Love" – Kendrick Lamar
6. "Feels Great" – Cheat Codes feat. Fetty Wap
7. "A Little Work" – Fergie
8. "Beautiful Trauma" – Pink
They do it again, two nights in a row and the only track to be #1 for 2018…so far. Please remember weeknights you can have a say in the outcome. Cast your ballot from 5-7:30 p.m. CDT by either calling 217-844-HITS, texting 217-218-0288, or by leaving your vote at The Party's Facebook Page!